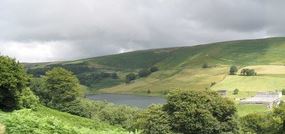 Blaenau Gwent County Borough covers an area of deep valleys and exposed upland heath.
Despite the fact that the area has traditionally been thought of as an industrial area, mainly for coal mining and steel production, its land use is now predominantly rural with over 77% of the land area given over to farmland, commons and open spaces.
The landscape is characterised by the mountain masses that are intersected by the three narrow river valleys. In the east is the Ebbw Fawr Valley running from Brynmawr through Nantyglo, Blaina, Abertillery and Six Bells before joining the Ebbw Fawr. The Ebbw Fawr Valley starts in Rassau and descends through Ebbw Vale and Cwm whilst the Sirhowy Valley begins beyond Trefil through Tredegar and down towards Blackwood.
Agriculture accounts for almost half of the County Borough's land-use. Agriculture has and continues to shape much of our countryside and changes in agricultural management can affect important habitats (e.g. Native woodlands) and species (e.g. Lapwings).
The existence in our towns and villages of green spaces, parks, gardens, trees and allotments can all provide a refuge for wildlife, an opportunity to increase awareness and understanding of the natural environment and improve people's physical and mental well being.
Information and advice