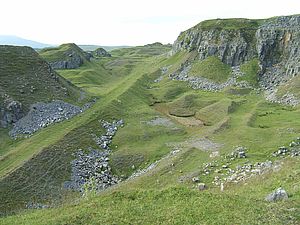 Trefil Quarry
A taste of the past
Everyone expects to find remnants of an industrial past in the area and at Sirhowy there is a fine example of a Georgian Ironworks, dating from the heyday of ironworking in 1796. The valley bottoms are scattered with pit wheels, commemorations of our mining past, while higher up the valley sides iron, stone and limestone quarries can be found. One of these on Trefil is the largest scheduled ancient monument in Wales; it's even bigger than Caerphilly Castle. At Nantyglo you can see the lengths the local Ironmaster went to protect himself and his stables from disgruntled workers, while at Bedwellty House we can see a fine example of an benevolent ironmasters residence.
Our history goes back much further. At St Illtyd's, Abertillery, you can find Blaenau Gwent's oldest building in the beautiful, deconsecrated medieval church and nearby is the castle mound. The hillsides are scattered with Celtic burial mounds and medieval farmsteads. There is so much to explore so get cracking.
Cefn Golau Cholera Cemetery 
This isolated site, set on the bleak mountainside to the west of Tredegar this is one of the most evocative in the south Wales valleys. Here rest the mortal remains of at least two hundred people, victims of the "King of Terrors" – cholera. 
Nantyglo Roundhouse Towers 
The Nantyglo Roundhouse complex is a unique relic of the Industrial Revolution. It was built in about 1816 by Joseph and Crawshay Bailey, the Ironmasters of the Nantyglo Ironworks, as a defended refuge against armed revolt by their workforce. In effect, it was the last private castle built in Britain.
Sirhowy Ironworks 
The Sirhowy Ironworks were first established in 1778 supplying Ebbw Vale with iron where it was worked into wrought iron and later steel.
Enjoy a video tour below: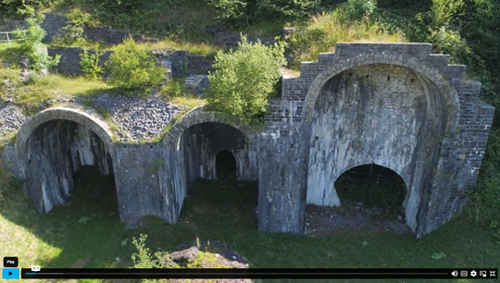 St Illtyd's Church
St Illtyd's Church - Standing on a plateau of Mynydd Llanhilleth, overlooking, the Ebbw Valleys. This historic yet quaintly diminutive church abounds with the atmosphere of 800 years.
Enjoy a video tour below: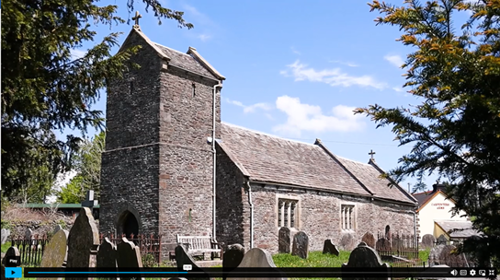 Contact Information
Name of Team: Economic Development
Telephone Number: 01495 355937 or 07968 472812
Address: The General Offices, Steelworks Road, Ebbw Vale, Blaenau Gwent. NP23 6DN  
Email Address: alyson.tippings@blaenau-gwent.gov.uk