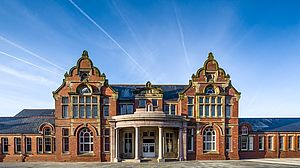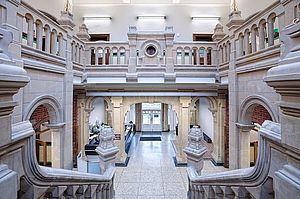 Blaenau Gwent is a great place to do business especially if you are looking to hold your meeting, conference, exhibition, event or function. 
Our biggest conference centre is the General Offices on The Works site in Ebbw Vale.
The General Office was built in 1915-16 for the Ebbw Vale Steel, Iron and Coal Company. They were designed by Veale and Sant of Cardiff, in free Dutch baroque style. Listed grade II*, it is a fine and rare survival of an industrial office complex. The lavish design reflects the prosperity of the steel industry in the early 20th century. 
The building was the principal office of the Ebbw Steel Iron & Coal Company Ltd, established in 1867. Today it represents one of the few iconic, early twentieth century buildings associated with the town of Ebbw Vale and, in particular, with the iron and steel works. It has survived 100 turbulent years in an industry which has witnessed seismic change and remains, at least for the foreseeable future, one of the few legacies of the town's industrial heritage. 
Currently housed in the building are the Ebbw Vale Works Museum, the Gwent Archives and a management team of Blaenau Gwent County Borough Council. During the renovation of the building an extension was added to accommodate Gwent Archives. 
The extensive refurbishment works retained all the character of the building whilst adding modern conferencing facilities. In addition to wi-fi and projection facilities, the building also boasts a 4D cinema, 360° projection room and Sandpit interactive system. 
The GO has 7 flexible meeting spaces and 2 projection suites to cater for capacities from 2- 250.  All rooms have full disabled access and wi-fi. 
There is free parking adjacent to the building and excellent public transport links with the Ebbw Vale Town Railway Station next to the building and the X4 bus service stopping nearby. 
To book your event call 01495 356056 or send your booking form to: generaloffices@blaenau-gwent.gov.uk
Enjoy a video tour of the General offices below: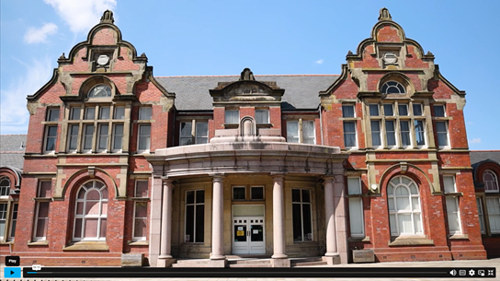 Contact Information