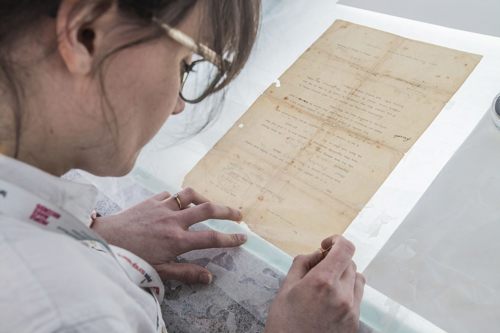 Gwent Archives
Welcome to Gwent Archives!
We are an Accredited Local Authority Archive Service collecting and preserving and making accessible archives relating to the former county of Gwent.  Our friendly, professional team includes Archivists, Conservators and Records Managers as well as Archive Assistants and Administrators.
The archives in our care tell the history of Gwent, and the stories of its people. 
We collect the records of our local authorities, of businesses, families, organisations and individuals, and the collections include papers, plans, photographs, diaries and minutes.  They are catalogued, lists of the collections can be found here, and we preserve and conserve them in the best possible conditions so they be used by future generations.
The collections can be accessed on site at Gwent Archives or through our enquiries and digitisation services, and we welcome group visits by local organisations, students and teachers.
Visitor Information
Contact details for opening times please visit the website. 
Gwent Archives Steelworks Road Ebbw Vale Blaenau Gwent NP23 6DN.
Telephone: 01495 766261
Email: enquiries@gwentarchives.gov.uk
Website: http://www.gwentarchives.gov.uk/
Contact Information
Name of Team: Economic Development
Telephone Number: 01495 766261 or 07968 472812
Address: The General Offices, Steelworks Road, Ebbw Vale, Blaenau Gwent. NP23 6DN
Email Address: alyson.tippings@blaenau-gwent.gov.uk