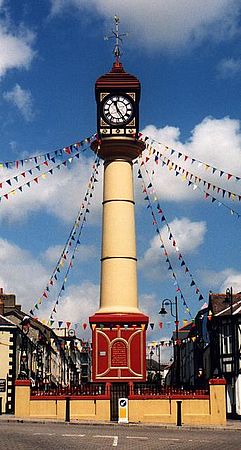 Tredegar Town Clock
LOCATION
Built in 1858, the iron clock tower is a symbolic reminder that the town's existence and growth was due to the production of iron.  The site chosen was then called Market Square, now 'The Circle', and the clock has become a landmark of which local residents are justly proud.  
FUNDRAISING
The manager of the rapidly expanding Tredegar Ironworks in 1857 was Mr R. P. Davis who lived at Bedwellty House, and his wife took a keen interest in the affairs of the town. The idea of a Town Clock was originally hers and her husband promised a donation of £400 if she would undertake to raise money by some effort in the town.  A committee was formed and preparations to hold a bazaar were made.  Sadly, Mrs Davis died before this was held, but with the money raised, plus a further donation by Mr Davis, the target of £1,000 needed was reached. 
CONSTRUCTION
James Watson was the engineer responsible for the overall design and supervised the erection of the main structure.  It was cast in iron at the works of Charles Jordan, Iron Founder of Newport.  The Tredegar Company loaned chains and derricks to lift the heavy structure and dozens of men were sent from the iron works to help with the tricky operation, which took sixteen weeks.  Foundation works began in the autumn of 1858, but the tower and clock together were not completed until June the following year. 
DESIGN
The clock tower is 72 feet high and the pillar is wholly composed of cast iron.  The plinth is inscribed on its four aspects.  One reads
'Presented to the town of Tredegar from the proceeds of a bazaar promoted by the late Mrs R. P. Davis'. 
Opposite is the name and description of the Iron Founder and his crest, while the other aspects have the Royal Arms of England and effigy of Wellington, England's Hero.  The clock was designed by Mr J. B. Joyce of Shropshire and the four translucent dials were originally illuminated by gas.
CELEBRATIONS
Over the years the Town Clock has been the meeting place for the town's celebrations, including the end of WWII, on New Year's Eve, and on its birthday where residents gather to sing Happy Birthday to the clock. Visitors are invited to climb the clock each year as part of European Heritage Days.
In its long history, the clock has kept time with remarkable accuracy and can be said to be a fine example of iron casting and a monument to the industry of the town and its people.  
http://www.tredegartowncouncil.co.uk/your-town/the-town-clock/
Contact Information
Name of Team: Economic Development
Telephone Number: 01495 355937 or 07968 472812
Address: The General Offices, Steelworks Road, Ebbw Vale, Blaenau Gwent. NP23 6DN  
Email Address: alyson.tippings@blaenau-gwent.gov.uk