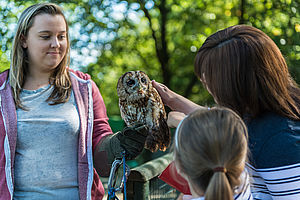 Festival Park Owl Sanctuary
The Owl Sanctuary cares for over 50 birds of prey, including Owls, Hawks, Falcons, Buzzards, Eagles and Vultures from all over the world. The collection has grown through rescues and donations and while many of the birds will be there for life, those that are well enough are returned to the wild. Visitors get the chance to handle the birds for a memorable experience and amazing photographs.
The Sanctuary is run by Malcolm Jones, and relies entirely from the good will and donations from visitors.
Contact Information
Name of Team: Economic Development
Telephone Number: 01495 355937 or 07968 472812
Address: The General Offices, Steelworks Road, Ebbw Vale, Blaenau Gwent. NP23 6DN   
Email Address: alyson.tippings@blaenau-gwent.gov.uk