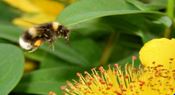 How to make your home or building energy efficient
Add rainwater collecting butts to downpipes from the roof guttering, for recycling and use permeable surfaces around buildings, to allow rain to naturally drain away. 
Use vitrified clay pipes for drains. These use a less harmful production process than PVC (polyvinyl chloride / synthetic plastic) pipes, and can be recycled at a later date. PVC is not easy to dispose of, and can be damaged by rodents. 
Use recycled or new concrete slabs, rather than asphalt paving.
External lighting should have controls for efficient use, for example, lights that automatically go off when there is enough daylight, or when they're not needed at night.
Use environmentally friendly materials
Add more insulation, beyond the minimum requirements recommended, in walls, roofs and floors, to save energy. 
Use recycled materials – second-hand bricks, tiles, slates and crushed concrete. 
Use mineral wool, expanded polystyrene and recycled newspaper as insulation. These use less energy during production, and produce less noxious emissions than polystyrene and polyurethane. 
Use timber with FSC (Forestry Stewardship Council) accreditation. 
Make sure that windows, doors and roof lights, meet the new Building Regulations and are designed to save energy. 
Use water-based or natural paints and stains which will not threaten the painter's health, or the quality of the air. 
Use draft-excluders to reduce heat loss through doors and windows. Use rolled up material that you can put at the bottom of doors to stop drafts, and use draft excluder tape around windows. 
Use materials from local builders' merchants/DIY stores, so that you do not have to transport them long distances.
Save energy
Use gas-condensing boiler for your water and heating – these are very energy efficient. If you're working on a large-scale project, consider using a combined heat and power boiler for maximum energy efficiency, and to save costs. Check with Building Regulations to make sure that your boiler meets the minimum efficiency standards.
Insulate existing pipes and tanks to save energy – again check with Building Regulations for the minimum standards.
Install water saving toilets with a dual flush.
Use aerated spray taps and shower heads to reduce water consumption.
Install temperature controls for different parts of the house, for example, thermostatic valves which control the temperature of radiators, so that you don't waste energy and money.
Use low-energy lighting and light bulbs – at least some of the internal lighting must use energy-efficient lamps, for example, fluorescent lamps.
Install ventilation systems throughout, with heat recovery units which use heat from the air and put it back where it is needed in the house/building.
You don't need to have heating in a conservatory – the sun will provide solar energy to heat the room. 
Install storage areas (inside or outside your home/building) so you can collect recycled material.
Think of using solar power. Solar energy panels can be used to heat water. Sunlight capturing panels, which can be used instead of roof tiles for cladding or roofing, maximize energy efficiency and can generate electricity 
Contact Information