Net Zero 2030
Net Zero emissions means removing an equal amount of CO2 from the atmosphere as we release into it.  The Net Zero 2030 ambition relates to our organisational emissions (our carbon footprint) that include all emissions from our buildings and vehicles, and also emissions which are the result of making the things that we buy and other organisations delivering services on our behalf.
Our Decarbonisation Plan was adopted in September 2020 at the same time as we declared a Climate Emergency.  The plan addresses our organisational carbon emissions with the aim of making our full contribution to the ambition of a Net Zero Public Sector in Wales by 2030. 
Public Leadership
We are committed to leading climate action across Blaenau Gwent. We believe that this leadership starts with addressing the climate impact of our own operations. We are already taking a number of positive actions, but we recognise the need to increase our efforts through a systematic corporate approach to decarbonising the authority.  Responding to the climate crisis is one of the four priorities in our Corporate Plan 2022-2027.  In 2022 we also appointed our first Climate Champion Cllr Sonia Behr.
Data Driven
We have adopted a data driven approach, based on identifying from our carbon footprint, eight transitions we must undertake to reach Net Zero.  Each of these transitions represents a coherent area of action with its own distinct low carbon technologies, business models and infrastructure.  Each of these transitions has its own detailed actions to deliver it (see our plan for more details).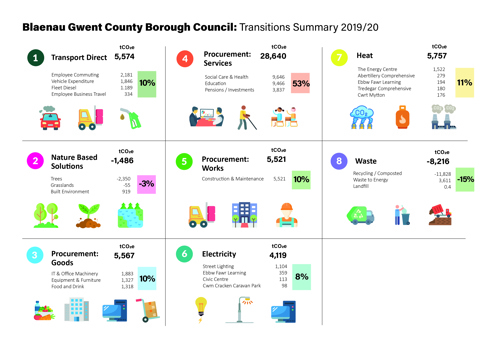 Annual Report
We produce an Annual Report on the progress of our Decarbonisation Plan, including reporting our carbon footprint.  All past reports are available here: