The top team from the National Theatre visited Wales this week to explore the area that gave birth to Aneurin Bevan and the National Health Service. The Team included the Rufus Norris, Director of the National Theatre, Tim Price – Writer of Nye, Vikki Mortimer, the Artistic Director and Michael Sheen who will be playing the lead role.
Blaenau Gwent Council's Destination Management Officer, Alyson Tippings took them on a tour around Tredegar visiting old haunts and important locations. The tour started in Bedwellty House where the National Theatre team settled in the Council Chamber where Nye sat when first elected to Tredegar Urban District Council. They watched the film telling of his rise to fame and how he overcame his speech impediment to become one of Parliament's greatest orators.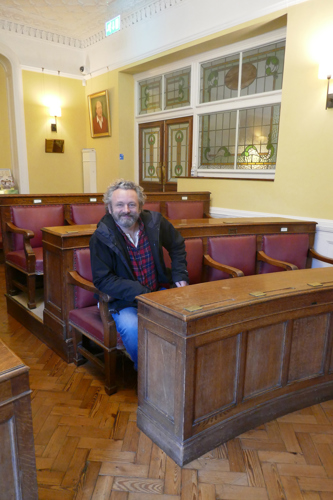 After looking at old photographs and artworks they visited the Tredegar Workmen's Medical Aid Society Heritage Centre to find out about the organisation that Bevan based the NHS on. They also visited his constituency base at Queen's Square, the site of Tŷ Trist mine where he worked; his birthplace in Charles Street; the Memorial Stones that mark the spot where he addressed his constituents and the world and lastly his final resting place in Trefil. Along the way they read his quotations, his favourite quotes by others and what people said about him.
Locals were excited to find out about this secret visit and are looking forward to seeing the play next year in the National Theatre in London.