The Smallest Things charity has presented Ysgol Gynradd Coed-y-Garn Primary School with their Prem Aware Award!
Ysgol Gynradd Coed-y-Garn Primary School has been given The Smallest Things Prem Aware Award.  By completing additional training and steps to become a Prem Aware School teaching staff at Ysgol Gynradd Coed-y-Garn Primary will have a better understanding of the learning needs some children born prematurely may have, will be able to identify needs earlier, and will be able to provide timely and targeted support.
Lauren Cairns, Headteacher, at Ysgol Gynradd Coed-y-Garn Primary said:
"Having taken the pledge earlier this year, we are ever so proud at Coed-y-Garn to become the first school in Wales to achieve The Smallest Things Prem Aware Award. As a school, we are committed to improving wellbeing and supporting learners, and having an improved understanding of the impact that being born prematurely can have on an individual will be beneficial in supporting our learners and our families."
Congratulating the steps taken by Ysgol Gynradd Coed-y-Garn Primary School, Catriona Ogilvy, Founder and Chair of The Smallest Things said:
"The Smallest Things is delighted that Ysgol Gynradd Coed-y-Garn Primary School has joined our growing list of Prem Aware schools across the UK. In doing so they have shown their commitment to meeting the needs some pupils born premature may have. With an average of two to three children in every classroom being born prematurely, we know that teachers can play a crucial role in supporting and improving the long term outcomes for this cohort of children. Having trained teachers who know what to look out for and how to help pupils born prematurely will have such a positive impact on the children's educational journeys."
The Smallest Things Prem Aware Award scheme promotes use of the 'Preterm Birth Information for Educational Professionals', a free online training resource developed by Professor Samantha Johnson and her colleagues in the PRISM (Premature Infants' Skills in Mathematics) Study Team. The online resource outlines the impact premature birth can have on a child's development and learning, and offers practical ways to support children born prematurely at school.
While pupils born extremely prematurely (before 28 weeks' gestation) are most likely to need extra support, research highlights that children born just a few weeks early may still face difficulties at school. The cognitive and learning difficulties most commonly associated with premature birth include slower processing speeds, difficulties with memory, poorer visual-spatial skills, attention difficulties and struggles with mathematics.
Further information: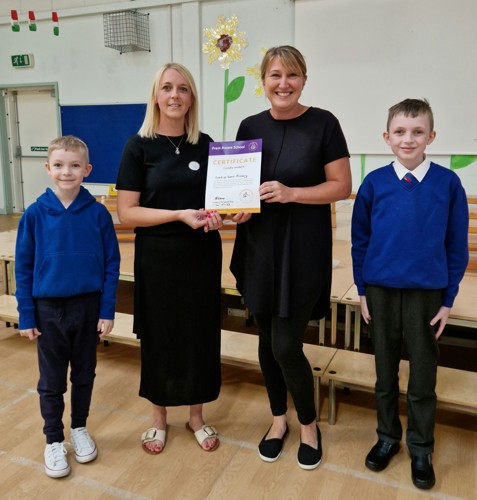 Pictured are Mrs Rebecca Hampton (Pastoral Lead, Well-being, Pupil Voice and Community Links Lead) and Lynsey Gore, Parent and The Smallest Things Ambassador.