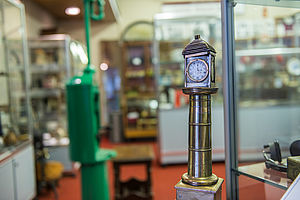 Tredegar Local History Museum
Overlooked by Tredegar Town Clock, the museum has a varied collection of artefacts reflecting the industry and life of this important iron making town. Tredegar is also the home of The Medical Aid Society that local politician and Welsh hero, Aneurin Bevan, based the UK's National Health Service on. The museum has several exhibits showcasing Tredegar's unique history.
Visitor Information
Tredegar Library, The Circle, Tredegar, Blaenau Gwent NP22 3PS.
Telephone: 01495 357869
Email: archiveclub@hotmail.co.uk
Opening hours: Museum open wed 10-1, Fri 10-1 and 2-4.30 and Sat 10-12. Archive open on Wednesday afternoons 2.00-4.00. 
Contact Information
Name of Team: Economic Development
Telephone Number: 01495 355937 or 07968 472812
Address: The General Offices, Steelworks Road, Ebbw Vale, Blaenau Gwent. NP23 6DN  
Email Address: alyson.tippings@blaenau-gwent.gov.uk