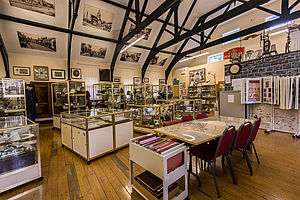 Blaina Heritage Action Group Museum
The museum includes displays on the local coal and iron industries, chapels, schools, local societies, sport and local celebrities and a fully furnished reconstruction of a Victorian Welsh kitchen. The group also has a large collection of documents available to peruse. 
Visitor Information
Contact details for opening times please visit the website. 
Blaina Institute, High Street, Blaina, Blaenau Gwent NP13 3BN. Telephone: 01495 292025
Email: blainaheritagemuseum@talktalk.net
Website: http://www.blaina.moonfruit.com/
Contact Information
Name of Team: Economic Development
Telephone Number: 01495 355937 or 07968 472812
Address: The General Offices, Steelworks Road, Ebbw Vale, Blaenau Gwent. NP23 6DN  
Email Address: alyson.tippings@blaenau-gwent.gov.uk