BMX Track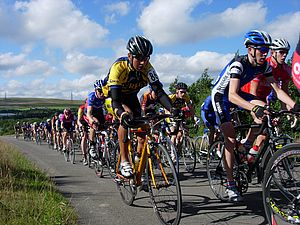 Junior Tour of Wales
Cycling is becoming an increasingly popular activity with many opportunities available in Blaenau Gwent to embark if this is your favourite activity. 
Leisure routes
Sustrans National Route 46 and routes 465, 466, 467 and 492 all link to Blaenau Gwent with large sections traffic free for safe family cycling. 
Ebbw Fach Trail
The Ebbw Fach Trail Is a 16 kilometre trail passing through 14 community green spaces. The trail explores the journey of the landscape from its agricultural origins, through the ravages of industrialisation back to a green and pleasant land. The trail follows the Ebbw Fach river highlighting Heritage sites and wildlife hot spots, taking the visitor on a learning journey through the valley.
Mountain Biking
The valleys have become a mecca for thrill seeking mountain bikers. Parc Bryn Bach has several single forestry tracks and runs off site challenge courses. 
BMX
The national standard BMX track at Parc Bryn Bach is the only one of its kind in Wales with qualified instructors who will soon have you roaring around the 400 metre circuit. 
The track has hosted national championships and is available for private hire, individual use and club events. Bikes and helmets can be provided for groups. 
Cycle Hire
There is a bike shop and cycle hire facility at Parc Bryn Bach. 
Events
The Junior Tour of Wales is held in Blaenau Gwent every August Bank Holiday, just one of many popular cycling events in the Valleys.
Contact Information
Name of Team: Economic Development
Telephone Number: 01495 355937 or 07968 472812
Address:The General Offices, Steelworks Road, Ebbw Vale, Blaenau Gwent. NP23 6DN  
Email Address: alyson.tippings@blaenau-gwent.gov.uk