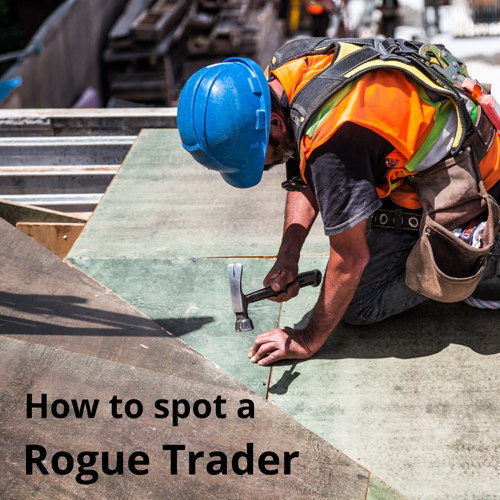 Trading Standards Officers in Blaenau Gwent are warning the public and business community to be on their guard against potential rogue traders who may be operating in the area.
As the weather starts to improve, it's likely that we'll see an increase in traders offering building, roofing, pathway/driveway and landscaping services door to door.
"We strongly advise people not to enter contracts with doorstep callers as should anything go wrong and the workmanship is of very poor quality it can be very difficult to get any redress later.  Don't be swayed by any offers that seem too good to be true – they usually are."
How to spot a Rogue Trader
Pushy Sales People – they may offer cut price home improvement services such as roofing and guttering repairs.
Can use scare tactics – they may state that the work is urgent, Deliberately cause damage when assessing the work.
Demand large amounts of cash upfront – they may insist on driving the customer to the bank to get immediate payment.
Increase the price – often done as the job progresses or commence additional works without authorisation.
Give the impression they are a legitimate company – They will have their trade name on their vans/paperwork along with telephone numbers/email addresses but often do not provide a geographic address or will provide an address that does exist but does not link to the business Ultimately they do not want you to know who they are but will give the impression that full Company information is being provided.
How to Protect against a Rogue Trader
Never agree to have work done or part with money on your doorstep.
Always get written quotes from at least two traders for any work.
Use your family, friends and get recommendations of good tradespeople.
Be very careful using traders that you don't know anything about even if you source them on the internet.
Always check the business out in as many ways as you can. Take the registration number of the trader's vehicle and ask for proof of the owner's identity
If you agree to work and it starts but becomes evident that it is not what you asked for or very poor quality tell the trader to stop immediately and do not part with any cash until you have had a second opinion from another tradesman.
You have 14 days to cancel any purchase of goods or services over £42 that you make in your home. If someone won't give you written notice telling you how and to whom you must give your cancellation - they commit a criminal offence. 
Always agree the price, payment arrangements and start/finish dates in writing before any work starts on your home. 
Get the full name of the trader and their bank details for payment purposes so that you know who you are entering a contract with. Avoid cash payments.
Don't pay in full until you're completely satisfied with the work.
Keep your home and belongings safe during works.
If you think you've been cheated, are concerned about a trader or have any doubts call 101 or Consumer Helpline on 0808 223 1133.