Cwrt Mytton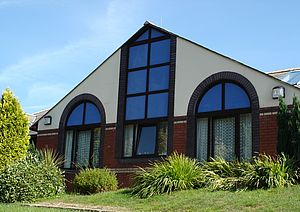 Facilities
Cwrt Mytton is a Social Services EMI residential care home for older people, some with dementia.
The building was designed to make life pleasant and convenient for residents and their visitors. Accommodation is on 2 floors serviced by a lift.
The home is located off Alma Street, close to the town centre.
There are 35 rooms. These consist of single rooms with en-suite facilities or vanity units, and adjacent toilet facilities.
Each suite of rooms has its own bathroom, which has been adapted to meet a range of physical needs, providing safety, privacy and comfort. There are also additional toilets in each area, sitting rooms and fitted serveries where you can make your own snacks and hot drinks.
The communal sitting rooms, dining room, kitchen, hairdressing room and laundry are situated in the central area of the Home.
All rooms are fitted with a call/alarm system.
A visitor's lounge is available with tea/coffee making facilities.
Staff
There is a team of officers (including a clerical officer), care assistants, domestic assistants, laundry and cooks.
Staff are given training for tasks they perform and have further training opportunities to develop their skills.
The staff are regularly supervised on a one to one basis.
There is a large committed staff group/with 4 senior officers.
During the day there is a member of staff on duty in each area of the home with 4 members of staff on duty for the Home throughout the night.
Services
Long term care: 35 places available.
Short term care: 2 places available.
Staff offer help with all personal care, bathing, washing, shaving and dressing.
A laundry service is provided and staff will also undertake sewing or mending.
Medical Care
You can continue to use the services of your doctor (General Practitioner) if they are able to provide a service to you.
(You may have moved out of their area).
Nurses working in the community and specialist consultants can visit the home, if the need arises.
Religious Worship
There is an input from the Council of Churches who provides a rota to ensure Cwrt Mytton and its residents are offered the choice of worship within their chosen Christian denomination. There are also regular visits from members of the Catholic Church and Church in Wales to offer Communion. Should the need arise, contact will be made with other faith leaders to ensure that the appropriate individual religious observances are catered for.
Meals & Other Services
These are flexible with a choice of menu
Special diets and preferences catered for. Meals can be served in the dining room or in your bedroom if preferred.
Other services include a public telephone and a twice weekly visit from a hairdresser whose charges are very reasonable.
Staff can support with visits to hospitals, chiropodists, dentists etc, if necessary.
The home is run democratically so that everyone contributes and shares in any decision making.
Charges
They are set according to a nationally agreed formula.
Community Links
Cwrt Mytton community links through its social activities. The aim of Cwrt Mytton is that residents have the right to expect and experience a high standard of personal and emotional care. We provide the help and support they need to live the kind of life which suits and pleases them and specialist care for those with dementia.
Aim
Our aim is to provide high quality 24 hour EMI residential care for older people with dementia whilst supporting and maintaining their independence and choice.
Activities
All the activities in the Home are chosen jointly by residents and staff.
They are arranged for groups or for individuals and include:
Socials.
Weekly Quiz.
Concerts.
Choirs.
Dominoes, cards and board games.
Darts, bingo and crafts.
Barbecues.
Christmas and anniversary parties.
Coffee mornings for relatives and friends.
Video evenings.
Outings to shopping centres, shows, concerts, restaurants and pubs.
Mobile library visits, book exchange and video films available.
Sources Of Assistance
If you would like to visit Cwrt Mytton to obtain further information please contact:
Cwrt Mytton
Alma Street
Abertillery
NP13 1QA
Telephone: (01495) 217736
Care & Social Services Inspectorate Wales (CSSIW)
Government Buildings
Rhydycar Business Park
Merthyr Tydfil
CF48 1UZ
Telephone: 0300 062 8888
Related Documents
Contact Information
For information, advice or assistance, to make a referral or report concerns in relation to:
a person aged 18 or over, please contact the Adult Services IAA Hub
a child or young person, please contact the Children's Services IAA hub.
Telephone: 01495 315700
Email : DutyTeamAdults@blaenau-gwent.gov.uk
Fax: 01495 353350
For general information enquiries:
Email : info@blaenau-gwent.gov.uk

Headquarters:
Social Services Directorate
Anvil Court
Church Street
Abertillery
NP13 1DB
Telephone: 01495 354680
Fax: 01495 355285