Money from the Home Office's Safer Streets fund is being invested into youth services in Brynmawr and Tredegar to support young people who are at risk of becoming involved in crime or anti-social behaviour.

A dedicated youth worker will be appointed to engage with young people in areas where high levels of anti-social behaviour have been reported, and a bespoke youth shelter has been built in Welfare Park, Brynmawr.

Young people from Brynmawr were consulted as part of the funding bid and said they would feel safer if they had a dedicated space to call their own. They helped to design the shelter which will act as a focal point for youth outreach in the area.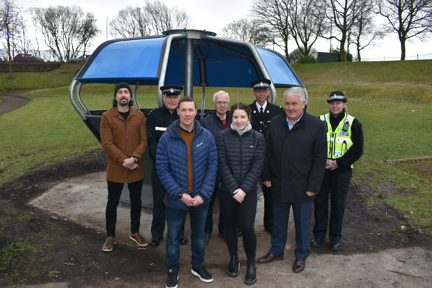 Inspector Stevie Warden said:
"We have listened to the young people in these areas, and to the wider community. The funding from the Home Office is allowing us to invest in key areas, supporting children and young people with a dedicated youth worker and creating a bespoke shelter to act as a focal point for our officers and partners to deliver support.

"It is enabling us to continue our strong partnership working with the council and community groups in Blaenau Gwent, helping to make our streets safer for all."
The project is a partnership between Blaenau Gwent County Borough Council, Gwent Police and the Office of the Police and Crime Commissioner for Gwent.

Councillor Sue Edmunds, Blaenau Gwent Council's Cabinet Member for People & Education said:
"We've listened to what young people in this area want and are delighted that we've been able to work with partners to access the funding for this facility which young people can call their own and where they can feel safe. Youth work is not just about clubs, our youth workers do some fantastic outreach work, going out in the community and engaging with young people to offer a range of activities and support. Well done to everyone involved with this initiative."

The funding is part of a larger pot of £750,000 that is being used to tackle anti-social behaviour in Gwent. As part of the Safer Streets project, Gwent Police has worked with local authority partners to improve CCTV in key areas, worked with local businesses to improve site security, and continued work on youth outreach programmes in Alway, Blackwood, Brynmawr, Caldicot, Cwmbran and Tredegar.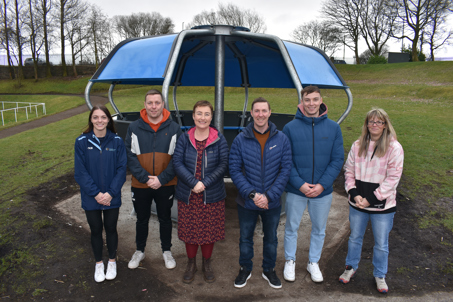 Police and Crime Commissioner Jeff Cuthbert said:
"The funding from the Safer Streets initiative is allowing us to deliver focussed crime prevention initiatives in communities that need it most. It is the result of many months of partnership working between the police, local authorities and other partners, and I am proud to see that it is starting to make a real difference to our communities."