Contractors, ISG have started  work on the site of the former Monwel Hankinson factory, Ebbw Vale, to create a new multi-million hi-tech post 16 education facility.
The new 21,808 sq ft High Value Engineering (HiVE) facility will provide state-of-the art training and education for young people and businesses in the fields of robotics, advanced materials and manufacturing, and digital and enabling technologies.
In partnership with Coleg Gwent, and industry partners, the Council secured over £12 million from the Welsh Government's Tech Valleys programme and the UK Government to bring the redundant factory building back in to use and create HiVE facility.
HiVE will be located on the 1.96-acre site in Ebbw Vale, the site of the former Monwel Hankinson Building on Letchworth Road.
Close to Ebbw Vale town centre and the Coleg Gwent, Blaenau Gwent Learning Zone, there will be a high-quality teaching space with the capacity for up to 600 students, complete with classrooms, study areas and a range of workshop spaces. The space will be kitted out with state-of the-art robotics and manufacturing equipment available for use by both post 16 students and businesses taking on new technologies.
In addition, across Blaenau Gwent and the Heads of the Valley region, primary and secondary schools will have access to HiVE and will be able to have guest lectures and demonstrations to help develop an understanding of the world of work through real world experiences and access to equipment outside of a school's often limited capability.
The facility will be available to all residents across Wales and will have the remit to encourage Learners and Students from under-represented groups into STEM careers.
The plan is to complete the building work by July 2024 in time to welcome students, including those enrolled onto engnieering courses at Coleg Gwent from Autumn 2024.
The project is jointly funded from the UK Government's Levelling Up fund and £3.9 million from Welsh Government Tech Valleys Programme.
The vision for Tech Valleys is to create a vibrant, world-class, high technology focus for Welsh-based manufacturing companies of all sizes spanning many key sub-sectors, including digital, cyber, AI, robotics, and manufacturing providing employment that is challenging, rewarding and valued. The programme aims to encourage the adoption of digital technologies and development of high value advanced technologies that support cutting edge industries such as 5G, battery technology and research into automotive and autonomous vehicles.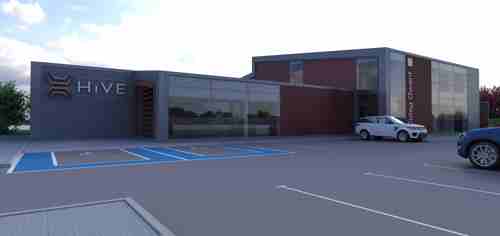 Councillor John Morgan, Cabinet Member for Place and Regeneration at Blaenau Gwent Council commented:

"This is such an exciting project that has been facilitated by the council; to be able to develop a state-of-the-art education and training facility here in Blaenau Gwent in partnership with Coleg Gwent to support our business community is great news. I am sure that this will be a catalyst to create highly skilled local jobs and long-term economic growth for the area."
Guy Lacey, Principal of Coleg Gwent said:
"Our vision is 'changing lives through learning'. This means we are dedicated to the young people who live in the places we serve, providing them with the support to grow and develop. 
As the local economy demands more expertise in STEM fields, Coleg Gwent aims to prepare the future workforce in a specialised facility that will provide learners with access to cutting-edge technology and innovation that reflects industry standards.
Industry experts will support with an updated curriculum, ensuring that we deliver excellence and expertise to the area that will contribute to economic growth, increased job opportunities and enhanced skills in the community."
Welsh Government Minister for Economy, Vaughan Gething, said:
 "This fantastic new facility will help inspire the next generation of engineers, raising aspirations and giving young people access to the skills they need for well-paid careers in the industries of the future.    
 "Having a pipeline of talented young people will play a key role in achieving our ambitious vision of creating a vibrant, high technology hub in the valleys and attracting inward investors in the advanced manufacturing sector."
Kevin McElroy, operations director at ISG, added:
"Maximising the opportunities that Industry 5.0 presents for individuals, our communities and the wider economy relies on us having the right domestic skills and expertise in place. We are learning that overseas investment in Wales and across the UK is increasingly dependent on workforce competencies, so a response in the form of this outstanding HiVE facility cannot be underestimated in terms of its impact and legacy."
1. HiVE aims to:
Provide relevant, up-to-date qualifications for the next industrial revolution.
Raise awareness in schools, pupils, and the wider community.
Raise aspiration and inspire future generations.
Improve accessibility.
Raise attainment levels in STEM.
Align with partners/stakeholders to develop a skills package/offer; and
Address the gender imbalance in Engineering.
The Centre will offer employment and skills opportunities with training, specifically allowing students to experience the world of work and equipping them with a qualification such as BTEC, HNC or HND. It will be a Centre of academic excellence for relevant engineering qualifications up to level 6 and therefore responding to industry and their needs. The business environment will be bolstered by the increased number of skilled residents, adding to the area's competitiveness.
The development of the Centre will future proof the area by being able to respond to companies that locate themselves within the Tech Valleys by having residents with the appropriate skillsets. The appropriate skillset will lead to the reduction in the number of young people classified under the NEET status, thus raising employment and economic activity in the area.
HiVE will ensure that young people will have the relevant training and skills to apply for jobs in the Advanced Materials and Manufacturing Sector and the Digital and Enabling Technologies. Students will be trained to have the STEM skills valued by local employers.   
Funding
The Welsh Government has committed £3.97 million to this proposal comprising:
£20,327 contribution to evaluation of need study commissioned by BGCBC from the Manufacturing Technology Centre (MTC).
£200,000 seed funding for detailed design development (specifically, activities and reports to bring architectural drawings and ecological and other surveys required to enable the planning application to be submitted this sum has been paid in full).
£160,000 was awarded in January 2022to assist in de-risking detailed design work and moving from RIBA 3 to 4 in the development of tender documents.
£600,000 for the purchase of autonomous robotics equipment and creation of feeder / taster learning hubs in Tredegar Comprehensive School and Coleg Gwent Learning Campus.
£2.99 million in March 2022 for the delivery of HiVE going forwards.
UK Government contributed over £8 million from its Levelling Up fund.