Blaenau Gwent Social Services has recently completed the development of 2 self-contained PODs alongside the existing Augusta House Respite Centre, to provide an enhanced respite and reablement facility. This new and innovative development supports the priority of the Gwent Regional Partnership Board by supporting people with a learning disability including young adults with complex needs through the transition process. The development has been funded using Welsh Government Regional Integrated Funding (RIF) capital monies.
The aim of the PODs are to have a strength based, multi-disciplinary approach to enable people with a disability to live as independently as possible within their own communities with appropriate levels of support along the way. This will promote people being able to live independently in their own homes and avoid the need for them to have to move into residential placements.
The service not only provides accommodation for the young people to stay for short breaks but also provides access to a range of professionals all of whom will promote and develop guests' independent living skills. This will be vital across all age ranges, especially guests who are aged between 16 - 25 to enable them to work towards achieving their identified outcomes in relation to independent living and having their own homes. 
Both PODs unveiled last week at an Elected Members briefing session and a future party is planned in the next few months, to thank all the individuals who worked on the project. Joining the social care staff at the unveiling event included Elected members from the local authority (Presiding Member Cllr Chris Smith, Cllr Haydn Trollop, Cllr George Humphries, Cllr Sue Edmunds and Cllr Derek Bevan) together with the young service users, Abbie, Oliver, and Josh, who are hoping to visit the PODs in the next few months.   
Abbie, Oliver, and Josh were ecstatic to finally see the finished result and are excited to be able to use the facility as part of helping them move onto the next chapter of their independent lives. All were pleased that they now have a place to visit which will support their outcomes which includes learning to cook, cleaning their rooms, and enjoying hobbies all under one roof.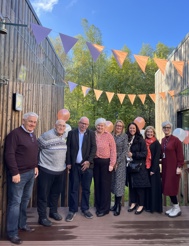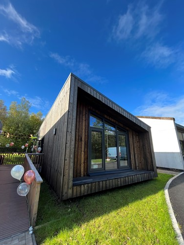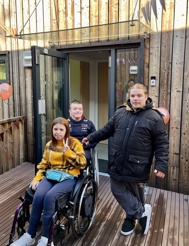 Abbie, young person who will be staying regularly at the POD said: ''I cannot wait to visit! I have my own bedroom which has an Alexa that will allow me to listen to songs that I enjoy as well as set alarms to remind me of my tasks for the day. The bed is cozy and adjusts accordingly to what is comfortable for me.''
Josh, young person who will also regularly be visiting the POD shared: ''The POD has everything needed to live independently including an oven to learn to cook my own meals and all cleaning facilities to wash up after myself.''
Councillor Haydn Trollope, Cabinet Member for People & Social Services said: "I really welcome these new PODs which enhance our offering for young adults with a learning disability here in Blaenau Gwent. We are strong advocates of helping vulnerable residents of all ages to live as independently as possible as we know the many benefits this can have. It was great to see the PODs in action and meet some of the young people who will be benefitting from them. Well done to everyone involved in making this happen. It is a Corporate Plan priority for us to empower and support our communities to be safe, independent and resilient.'"
To find out more about Augusta House services please visit here: https://www.blaenau-gwent.gov.uk/resident/health-wellbeing-social-care/getting-the-help-you-need/respite-for-learning-disabilities/augusta-house/
Telephone: 01495 315700
Email: DutyTeamAdults@blaenau-gwent.gov.uk
Fax: 01495 353350