On Thursday 7th September, World Duchenne Awareness Day will take place. Duchenne Muscular Dystrophy (DMD) is a rare but serious condition, which mainly affects young boys and causes progressive muscle weakness. There are approximately 2,500 children in the UK and the majority will sadly not live beyond their twenties.
Please see below Elliot and his mum Lucy. Elliot is five-years old and was diagnosed with DMD condition two years ago. At present, there are no clinical research trials and specialist care in Wales for children with Duchenne. Lucy and John Griffiths, Member of the Senedd for Newport East, have been working closely to change this - and they are hopeful! By working with Health and Care Research Wales, Duchenne UK, Welsh health boards and other organisations, we know change is coming.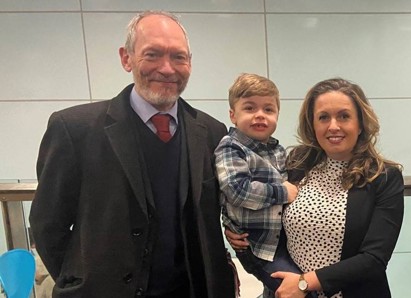 The two are also trying to raise more awareness of Duchenne. Last year Newport City Council lit up their Civic Centre building in red, to mark World Duchenne Awareness Day. It would be great to see as many local authorities as possible, getting involved in raising awareness - It would be a fantastic boost to all those affected by this condition.
You can find out more about Duchenne Muscular Dystrophy by visiting here: About Duchenne | Duchenne UK