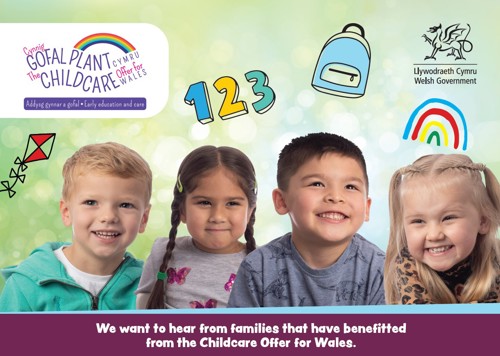 We're looking for families that have already benefitted from the Childcare Offer for Wales and are willing to share their story so we can continue to spread the word about the Offer. COFW Case Study Nomination
Do you know anyone?
If you know a family that currently/have recently received the Offer, and you think they would be willing to share their story, we want to hear from you.

We want to capture as much diversity as possible, so that we share stories from across all parts of Wales, including families from all backgrounds such as LGBTQ and Black, Asian and Minority Ethnic families, Welsh speaking families, single parent and blended families etc. Each family that takes part will receive a £50 voucher for their time.

Please let us know some basic information about the parent/s you would like to nominate:
Name
Location
Occupation
When did they access the Offer for their child/children?
Are they a Welsh speaker?
Contact details of the parent/s (email/mobile number)
Your contact details (email/mobile number)
Don't worry if you haven't got all the details. We can get these when we speak to your nominated parent/s. All information you provide will be handled in accordance with GDPR guidelines and the privacy notice outlined below.
You can send nominations to shauna.jones@freshwater.co.uk
Thank you for your support with this. Together, we can let as many people as possible know that the Childcare Offer for Wales is available to support parents with the cost of childcare.
The General Data Protection Regulation (GDPR)
PRIVACY NOTICE – Childcare Offer for Wales
The Welsh Government would like to engage with childcare providers, parents and Local Authorities to gather their views on the Childcare Offer for Wales (COfW). Feedback regarding the COfW will be used as case studies for use in marketing materials.
Welsh Government will be working with creative agency Freshwater to undertake this work.
In order to undertake this engagement we would like to speak to stakeholders with particular needs and receive some personal data from them.

The Welsh Government and Freshwater uses the images and information received for the below purposes. These purposes are carried out with a clear consent from you (the model release form) to process your personal data (image / video clips / feedback) for a specific purpose.

The data controller, Welsh Government, is undertaking this campaign under Public Task in the exercise of its official authority.

These purposes are:
Publications, Social Media, Websites, Presentations, Exhibitions and Displays. The information provided will be used to create case studies for use in marketing the Childcare Offer for Wales. Quotes provided by you will be used in marketing and communications to share information with others about the benefits of the COfW.

Who do we share your information with?
Personal information held by Freshwater will not be shared with third parties. The information provided by you for marketing purposes will be shared as set out in section 1. The published information will be: First name, images / video clips recorded and any quotes provided by you. We will not share information such as addresses or contact details.

How long will we keep your information?
Freshwater will keep your data on file for use for the purposes identified in section 1 and will delete any personal data within 6 weeks of the end of this campaign.
How secure is your personal data?
Freshwater will keep your personal data on a secure server in an area restricted to the project team. Information provided to Freshwater is always stored on a secure server. The data can only be accessed by a limited number of people working on this project. Freshwater will only use this data for the purposes identified in section 1. Freshwater has cyber essentials certification.
Your rights in relation to your information/data
Under GDPR, you have the following rights in relation to the personal information you provide as part of this COfW campaign:
Access to the Personal data that we are processing about you;
Require us to rectify inaccuracies in that data;
The right (in certain circumstances) to object to processing;
The right for your data to be 'erased' (in certain circumstances);
Lodge a complaint with the Information Commissioner's Office (ICO) who is our independent regulator for data protection.
For further information about the information which the Welsh Government holds and its use, or if you wish to exercise your rights under the GDPR, please see contact details below:

Llio Angharad, Senior Marketing Manager, Digital and Strategic Communications,
Welsh Government, Cathays Park, Cardiff, CF10 3NQ
Email: llio.angharad@gov.wales

Data Protection Officer, Welsh Government, Cathays Park, Cardiff, CF10 3NQ
Email: Data.ProtectionOfficer@gov.wales

The contact details for the Information Commissioner's Office are:
Wycliffe House, Water Lane, Wilmslow.
Telephone: 01625 545 745 or 0303 123 1113
Website: www.ico.gov.uk