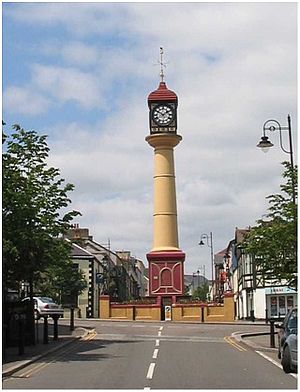 THI Scheme Background
The Townscape Heritage Initiative is a historic building improvement grant scheme offered under the Heritage Lottery Fund (HLF) to aid regeneration works across historic towns throughout the United Kingdom. Eligible projects, subject to funding will be completed within the next 5 years.
The scheme recognises that Tredegar has a significant historical past, and is a designated Conservation Area. This status was further enhanced in 2011 by the designation of Tredegar's Historical Core which takes a circular form around the Grade II Listed Town Clock which is considered to be 'an area of special architectural/historical interest which is desirable to preserve or enhance' and was identified with the funders to be the focus of the Tredegar THI Scheme. Progress pictures of the current projects can be found at the bottom of the page under related links.
THI Scheme Objectives
The THI Scheme is not to be solely identified as a funding opportunity for our heritage buildings.
The THI Scheme has aspirations to increase local awareness of the qualities of the built and social heritage we have which can be used to promote Tredegar as a commercial and tourism destination.
The Council are administrators of the THI scheme and we have a responsibility to ensure high quality, traditional repair and reinstatement projects are undertaken while delivering complimentary initiatives which raise awareness of Tredegar's heritage, provide an increase in built heritage skills while looking at using modern technology access our heritage.
The positive legacy form the THI investment will be to enhance our buildings, provide the skills and understanding to ensure the buildings are safeguarded while making our heritage more accessible.
THI Projects
The THI Scheme will focus on three areas of work
1. Building Repair- Eligible works up to 70% funded.
The objective of the building repair category is to put into good repair the structure and external fabric) of buildings and structures that make a positive contribution to the character or appearance of the conservation area. Repairs should be comprehensive in scope, using appropriate techniques or methods of construction and appropriate natural or traditional materials normally on a like-for-like basis. Internal repairs can be considered if they are necessary to achieve structural stability.
Consideration must be given toward the environmental impact of the proposed repairs. Substitute or artificial materials are ineligible, and their use is generally unacceptable on grant-aided projects.
2. Restoring Architectural features - Eligible works up to 90% funded
The restoration of architectural features is only eligible where the building is otherwise in good repair, or will be repaired as part of the project and clear documentary evidence is available. The restoration of architectural features can, if necessary, include the reinstatement of missing details subject to firm evidence of the lost features being provided.
3. Vacant Floor Space
Works can be undertaken to vacant floor space in THI eligible properties, for example, unused upper floors over shops. Proposals for such works must respect the character and special interest of the building internally as well as externally. Grant assessment for whole projects that bring vacant floor space back into use will be undertaken using the Conservation Deficit process which in its simplest form is when the existing value plus the development cost exceeds the value of the property after development.
Grants to bring vacant historic floor space into use are only available if the building's exterior elements are deemed suitable for the conservation area, or if the exterior of the building will be suitably improved as part of an approved scheme. To be eligible for grant, vacant historic floor space should be vacant because of poor condition or because the historic floor space fails to meet the needs of modern users.
In simple terms if an application is received for external works only then it will be assessed against Building Repair and Restoring Architectural Details (Points 1&2); if an application is received for external works and vacant internal work the it will be assessed using the Conservation Deficit (Point 3).
Please note that applications for routine maintenance work or basic decoration cannot be considered.
Eligibility
Selected properties within the designated Historic Core of Tredegar's Conservation Area will be eligible for grant assistance. The applicant must be either the freeholder of the property or person holding a lease with an unexpired term of at least 10 years, without a break clause, at the date of application.
THI Grant Awards
A THI Grant is discretionary and will be project specific, there is a tendering process to adhere to and once a complete application package is submitted it will be assessed to determine the grant figure using set criteria. Decisions on funding will be made by Blaenau Gwent County Borough Council based on advice from the Advisory Board and the Heritage Lottery Fund. The Advisory Board was established in May 2015 to oversee the implementation and decision making of both the THI and VVP Programme with representatives from local businesses, Tredegar Archives, Communities First, Groundwork, Tredegar Town Council, Local Elected Members and Officers making up the Board Members.
It is important to note that the Tredegar Townscape Heritage Initiative is very much a conservation grant scheme with emphasis placed on traditional methods and materials appropriate to the building wherever possible, for example, UPVC windows and tiled roofs are not acceptable. A high standard of workmanship is expected for all works.
Repayment Guidelines
Grants are repayable if the owner sells or transfers full ownership of their interest in the property within a specific period.
THI Scheme Funders
The THI scheme has a common fund which is made up of contributions from different sources. The THI Scheme funding is made up with contributions from the Heritage Lottery Fund, Welsh Governments Vibrant and Viable Places, Cadw, Blaenau Gwent County Borough Council and the private sector.

Related Documents
Contact Information
Name of Team: Regeneration Projects
Telephone Number: 01495 353313
Address: Civic Centre, Ebbw Vale, Gwent, NP23 6XB
Email Address: ceri.howell@blaenau-gwent.gov.uk